As the development of economic and the improved living standards, quality of service, large-scale of customers and customization has
become an important means of market competition. Call Manager therefore became the main source of realization of services, customers
and customization, its position in the business service sector became more and more important. However, the development cost and
investments in large and medium sized call center with more than 50 users are high, making SMEs unable to afford. These SMEs usually
engaged in intense market competition industries, and the market changes rapidly, which promotes the strong demands of small-scale,
low cost and multi-functional call center system for the SMEs.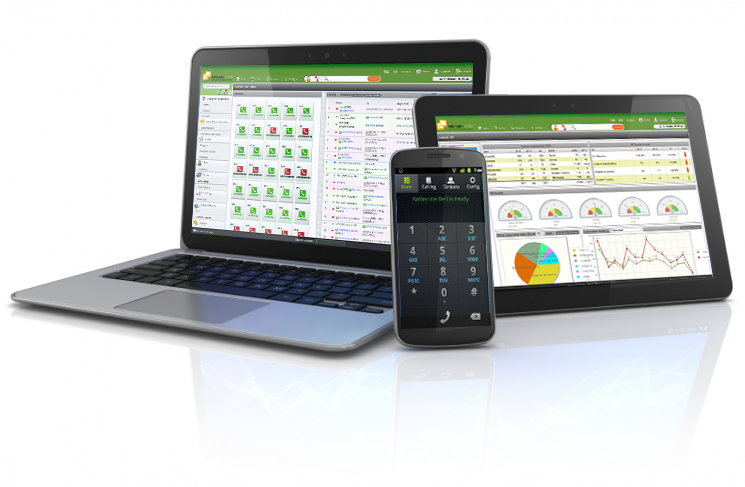 Users Needs Analysis
1) Low cost to establish call management system, enhance service quality.
2) Easy to manage and custom settings of IVR (Interactive Voice Response), the flow of inbound calls is controlled by the users,
with clear voice and easy to operate navigation menus.
3) Have certain incoming calls management capabilities, enable priority answering of users' incoming calls settings, with
flexible calls with follow-me function, call transfer and management functions.
4) Supports software telephone or hardware using headsets telephone terminals, to convenient the customer service personnel
to do records and operations.
5) With call recording, call log statistics and other functions, to facilitate backup, report and search.
Call Center Management Solution
Intimate Call Manager provides a comprehensive call center functions and is a call center middleware, which integrates MyPBX capabilities
through the Web Application platforms such as Firefox or Google Chrome allows customer service into the line on a computer screen view
messages, screen-based call management provides a user-friendly interactive interface.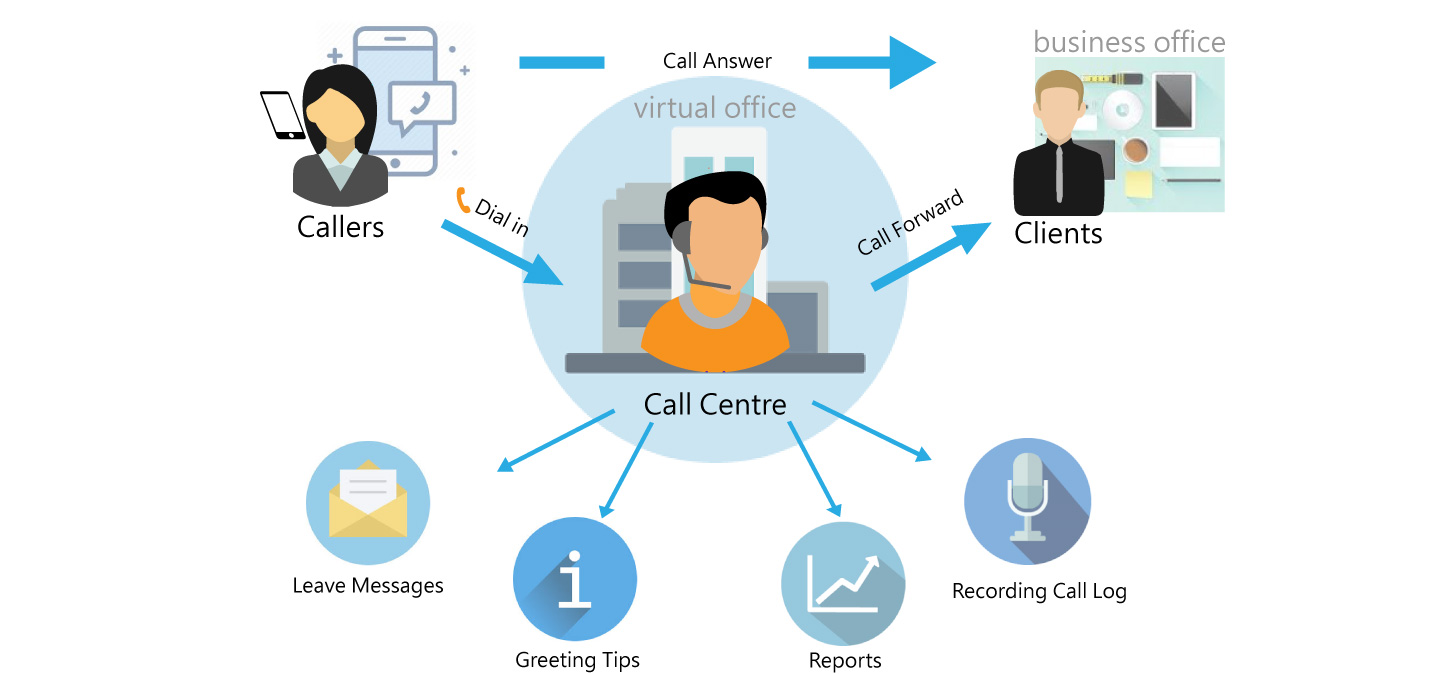 With the ability to accommodate Call Center and incoming call distribution requirements, inbound or outbound call and the relevant
information in the IVR system, recording system, shared between Call Manager and PBX. The telephone system and the computer system
information and business information data sharing and analysis.
1. Greeting Tips
When received calls, the system will appear the company name users should greet in, in the pop-up notification window.
2. Client Records
The system supports quick relate of the unknown phone number to an account once the system received a call.
Users could save the number to the client records.
3. Play Call Screen
The system will have a notification pop-up window which shows the caller information once the phone rang.
4. Incoming Lines Playing Screen
The system will have notifications telling users the incoming lines information.
5. Call Monitoring
Managers could monitor the team members' performances during phone calls with clients, could better evaluate
team members performances.
6. Call Statistics
Users could see all inbound and outbound call reports and statistics in the system, have better understanding which
team member made the most calls and who called the least.
7. Intelligent Routing
The system could identify the caller and direct them to an appropriate agent, based on known information tied to the
caller or information provided by the caller during the call.
8. Screen Pops Groups
As different client is handled by different team members, when calls handled by specific team members came in, the
notification screen will pop-up only to those team members, showing information of the client.
9. Recording Management
The system could record phone calls and voice mail, users could listen the records easily with one click of button,
and manage the recordings effectively.
10. Information Sharing
When calls came in, looking for specific team members, but they are on meeting, day off, etc., users could mark down in
the pop-up window, letting all users to share this information. Users could also mark down clients' notes for team members.
11. Telephone Records
The system allows you to check the user call log, you can check all your call history through the web-based system
at any time. You can also listen to the voice record playback by a simple click. The system also records the call in
clients' information, to which extension, the call in time, date and call length.
12. Voice Call Back
Users could call an extension outside Hong Kong, in order for that extension to call back, so users could use that number to
call clients in the same geographical area, outside Hong Kong, to reduce expensive call expenses.
13. Push-button Dialing
As call manager has integrated with the PBX IP Phone solution, you can call your client by simply click of a button.
Intimate Call Manager offers a centralized computer platform, which allows agents to review caller information from the screen and customize service delivery.
Intimate Queue Board
Intimate Queue Board is a board that uses in call centers to enhance call performances, it is also user-friendly. Showing per queue groups'
real-time information, including calls in queue, answered calls, abandoned calls, average hold time, average talk time, agents on call, agent
availability, lost call sum, call waiting and the time each agents talked per call, for the call center agents and managers, so they could
analyze the time they should use per call.
When there are too many calls in queues, hold calls and abandoned calls, managers could use these real-time information to increase
productivity of all agents, and improve the phone call answering situation, procedure and enhance customer interactions. To avoid the
risk of losing business and customers to your competitors, and maintain business positive reputation and image.
Integrations with PBX - Solutions Introduction
Series of MyPBX IP PBX Phone phone system, made telecommunication lines and VoIP networks integrates perfectly, reduce business communication cost significantly; uses advanced voice processing technology, to provide users with high qualities. MyPBX's embedded operating systems, made management and maintenance simple and convenient, not only to ensure reliable operations of the telephone network, but also the extension can be extended easily and migrate flexibly. MyPBX also has a strong compatibility, which is able to have hybrid network with a variety of traditional PBX, protecting users' investment.
Functionally, MyPBX possess functions of traditional corporate phone, and has built-in call center, with call recording, cost calculation of calls, conference calls and other value-added features. It is able to ingratiate out Intimate CRM / Call Manager, support telephone logs, client management, inbound / outbound call pop up screen, caller ID display with welcome message, company name and leave message etc.
Systems Infrastructure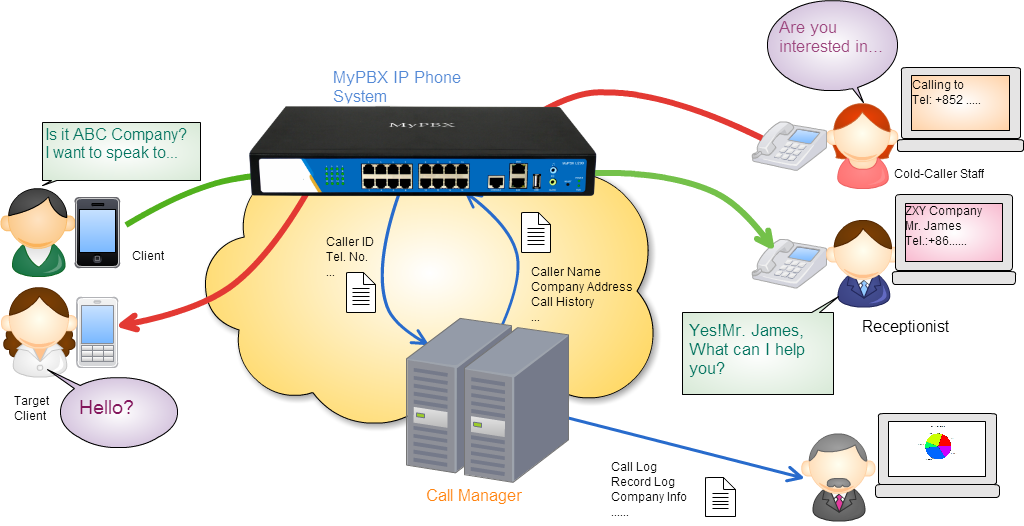 1) Server Room
•Deployment of a MyPBX
2) Phone Users
•Deploy software phone or IP phone, and register to MyPBX
Solutions
1) Low establish cost, a MyPBX is able to meet users' needs of creating their own call centers, and also able to have
conference calls, cost calculations of calls and other practical function.
2) Users can set the incoming calls system, balanced distribution of calls, the system can track the seats or agents status
in real-time, and produce an effective agent queues, use of permutation algorithm, to connect calls to the most appropriate agent.
3) When all customer service hotlines are busy, the system can play wait music that fits with the corporate's personality, and
regularly reminds the caller the numbers of wait.
4) Flexible join queue function, except for fixed telephone users, the system allows other users to call other system feature codes,
able to temporarily join or leave the call queue.
5) MyPBX call manager also has voice mail, call recordings and call records etc., able to improve call center's efficiencies and service
quality.
Auto-Dialer
Getting Started with an Automated Dialing System
To get started, all you need to do is load a list of leads, and the automated phone calling system starts dialing the numbers in a series. Our Intimate Auto Dialer help your teams to nurture relationships with prospects, set call backs and perform the ROI analysis of calling campaigns with a variety of reports and statistics to measure productivity.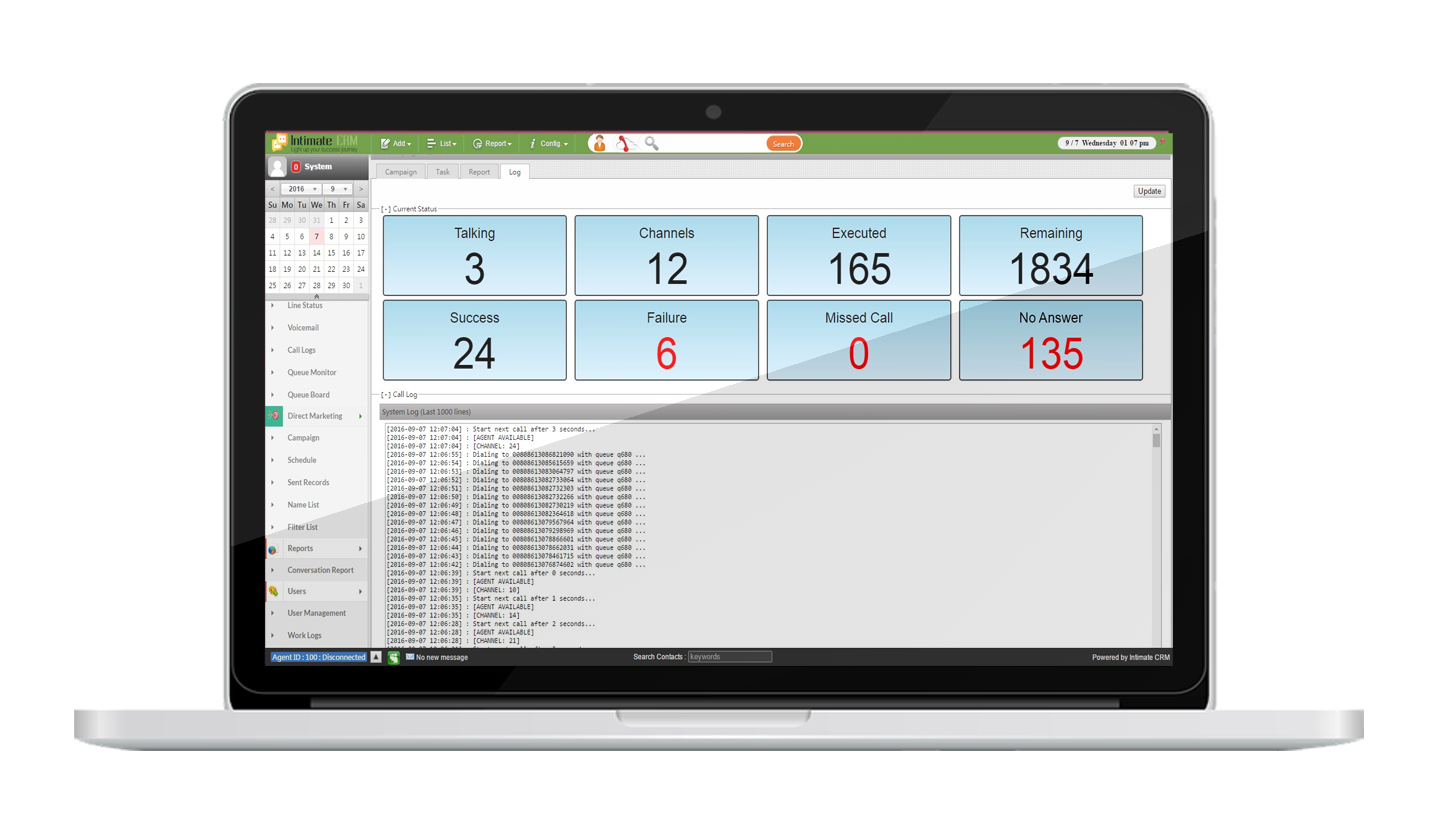 Cold calling is one of the most popular sales and marketing promotions, it enables company to reach their customers and have direct contacts with them.
Auto-dialing is a function designed for cold calling, it allows you to make cold calls to your targeted population and conduct random cold calling under specific dial pattern.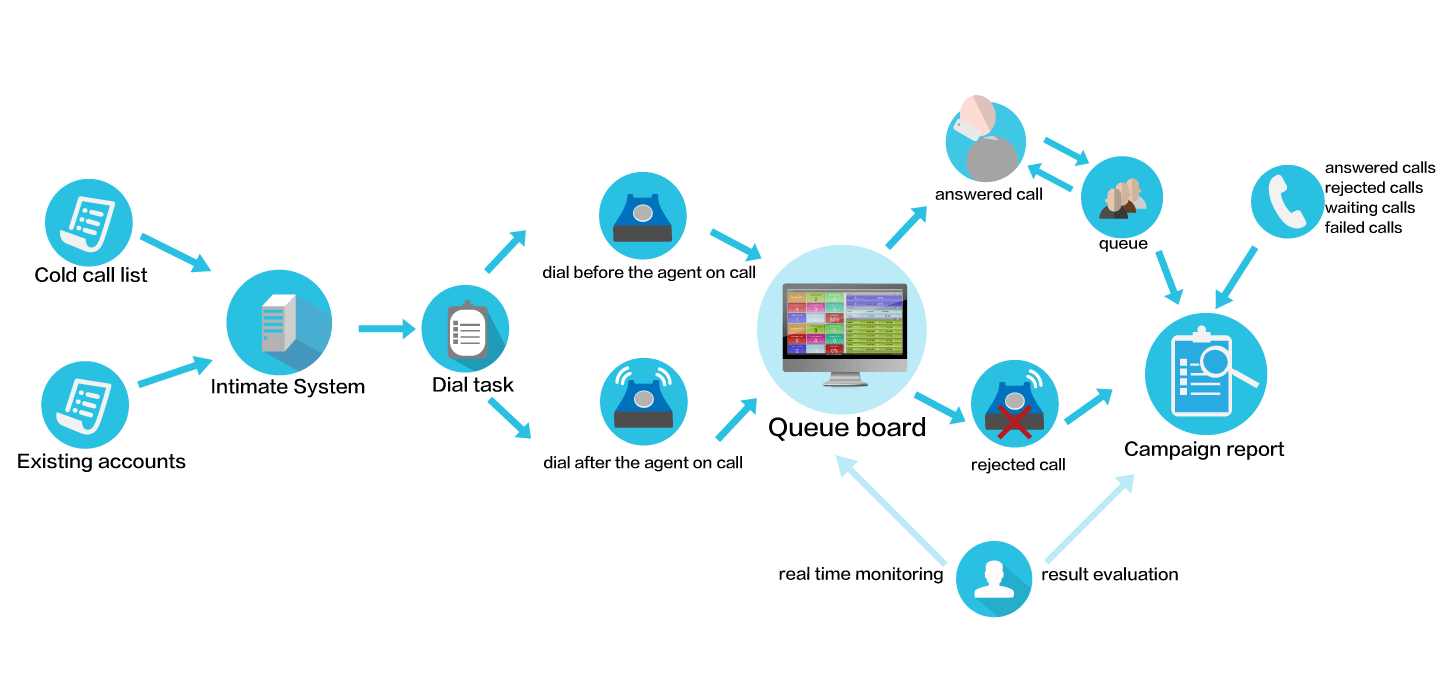 Functions
Dial list Management
You can import dial lists to the system and sort the dial lists. Besides, you can also create a dial list from your current account lists to conduct follow-up sales.
Auto dialing
You can select your targeted dial lists and the system will dial to the numbers on the list, only the answered calls will be transferred to the agents.
Random cold call
You can enter a dial pattern, and the system will conduct the random cold call following the dial pattern. The answered calls will be transferred to the agents.
Dial direction
You can either choose "dialing before the agent standing by" or "dialing after the agent standing by". Only the calls answered by clients will be transferred to the agents, it can reduce the redundant steps for agents to conduct cold calling and enhance the efficiency of cold calling.
Failure retry
If the call is unanswered, the system will re-dial the number for you if you required.
Save unanswered call list
The unanswered calls can be saved for future campaigns or follow up actions.
Dial prefix
You can set the dial prefix for cold calling, the number will be dialed with the prefix.
Campaign report
The system will generate a report for every finished campaign which specifies the result summary and allows you to export dial lists from the campaign report to follow up the potential prospects.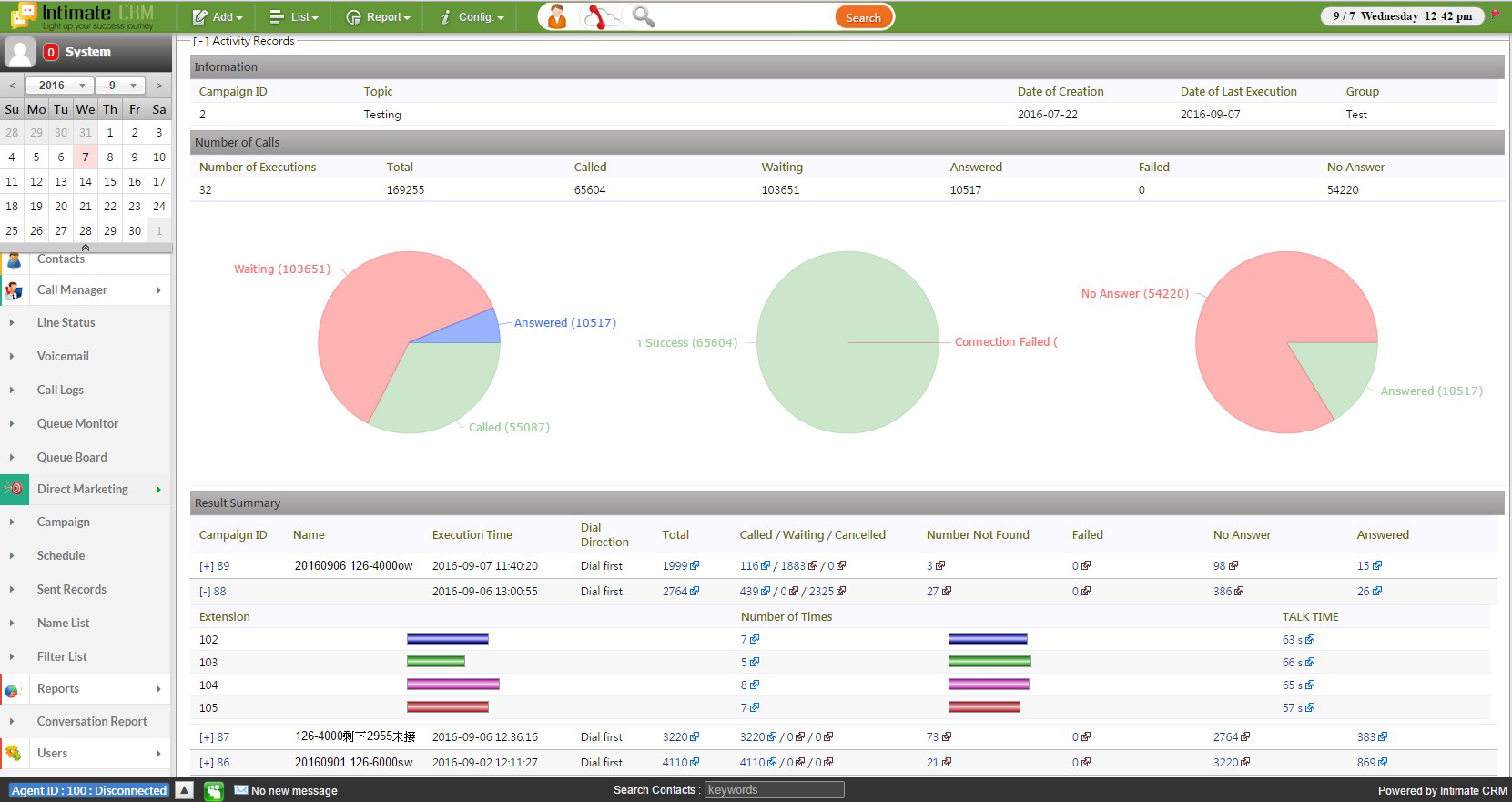 Benefits
Computerized dialing
The agents no long need to dial in person, only the answered calls will be distributed to the agents, so the agents don't have to wait for the calls being answered.
Manage potential prospects
The system allows you to save the contact of answered calls or unanswered calls, which enables you to manage your potential prospects and follow up the sales.
Market Targeting
The system allows you to import your dial lists and customize your campaign with different dial lists to achieve market targeting, you can target any groups of people to conduct cold calling. Besides, the system allows you to sort the accounts for cold calling, it can facilitate the market segmentation and market targeting.
Manage promotion campaigns
The system provides you campaign report to evaluate the campaigns, you can evaluate the performance of agents and the call efficiency, so as to pave the way for the development of future marketing plans.
Campaign Evaluation
The system enables you to evaluate the effectiveness of every campaign, which allows you to know the feasibility of marketing plan and the availability of dial lists.
Marketing efficiency
The system enhances the effectiveness and efficiency of your marketing promotion by facilitating the process of cold calling.