Intimate Call Manager - Auto-Dialer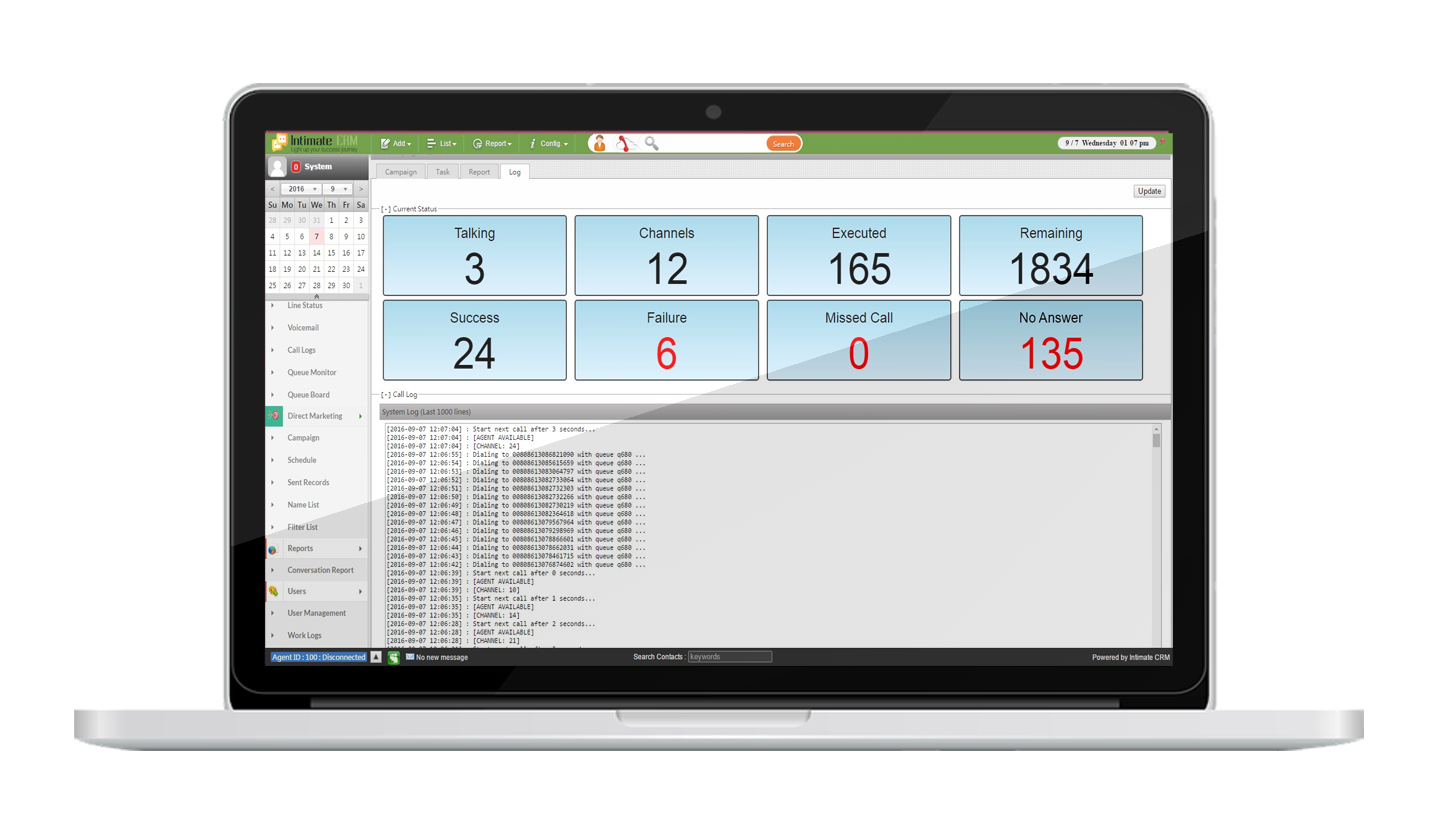 Cold calling is one of the most popular sales and marketing promotions, it enables company to reach their customers and have direct contacts with them.
Auto-dialing is a function designed for cold calling, it allows you to make cold calls to your targeted population and conduct random cold calling under specific dial pattern.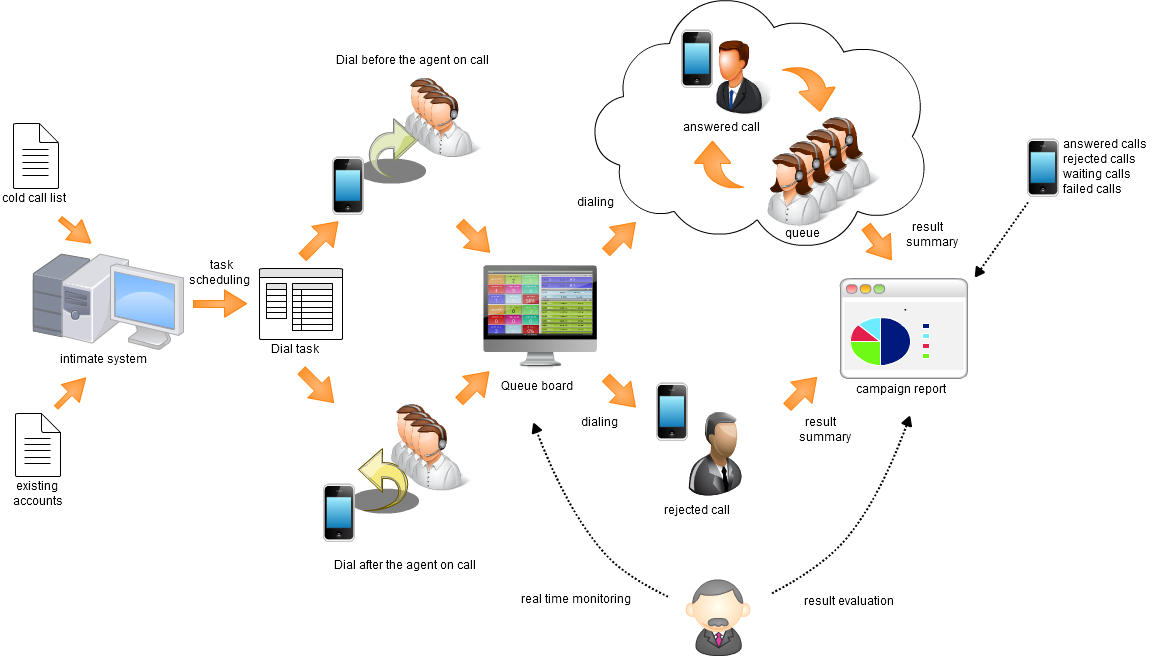 Functions
Dial list Management
You can import dial lists to the system and sort the dial lists. Besides, you can also create a dial list from your current account lists to conduct follow-up sales.
Auto dialing
You can select your targeted dial lists and the system will dial to the numbers on the list, only the answered calls will be transferred to the agents.
Random cold call
You can enter a dial pattern, and the system will conduct the random cold call following the dial pattern. The answered calls will be transferred to the agents.
Dial direction
You can either choose "dialing before the agent standing by" or "dialing after the agent standing by". Only the calls answered by clients will be transferred to the agents, it can reduce the redundant steps for agents to conduct cold calling and enhance the efficiency of cold calling.
Failure retry
If the call is unanswered, the system will re-dial the number for you if you required.
Save unanswered call list
The unanswered calls can be saved for future campaigns or follow up actions.
Dial prefix
You can set the dial prefix for cold calling, the number will be dialed with the prefix.
Campaign report
The system will generate a report for every finished campaign which specifies the result summary and allows you to export dial lists from the campaign report to follow up the potential prospects.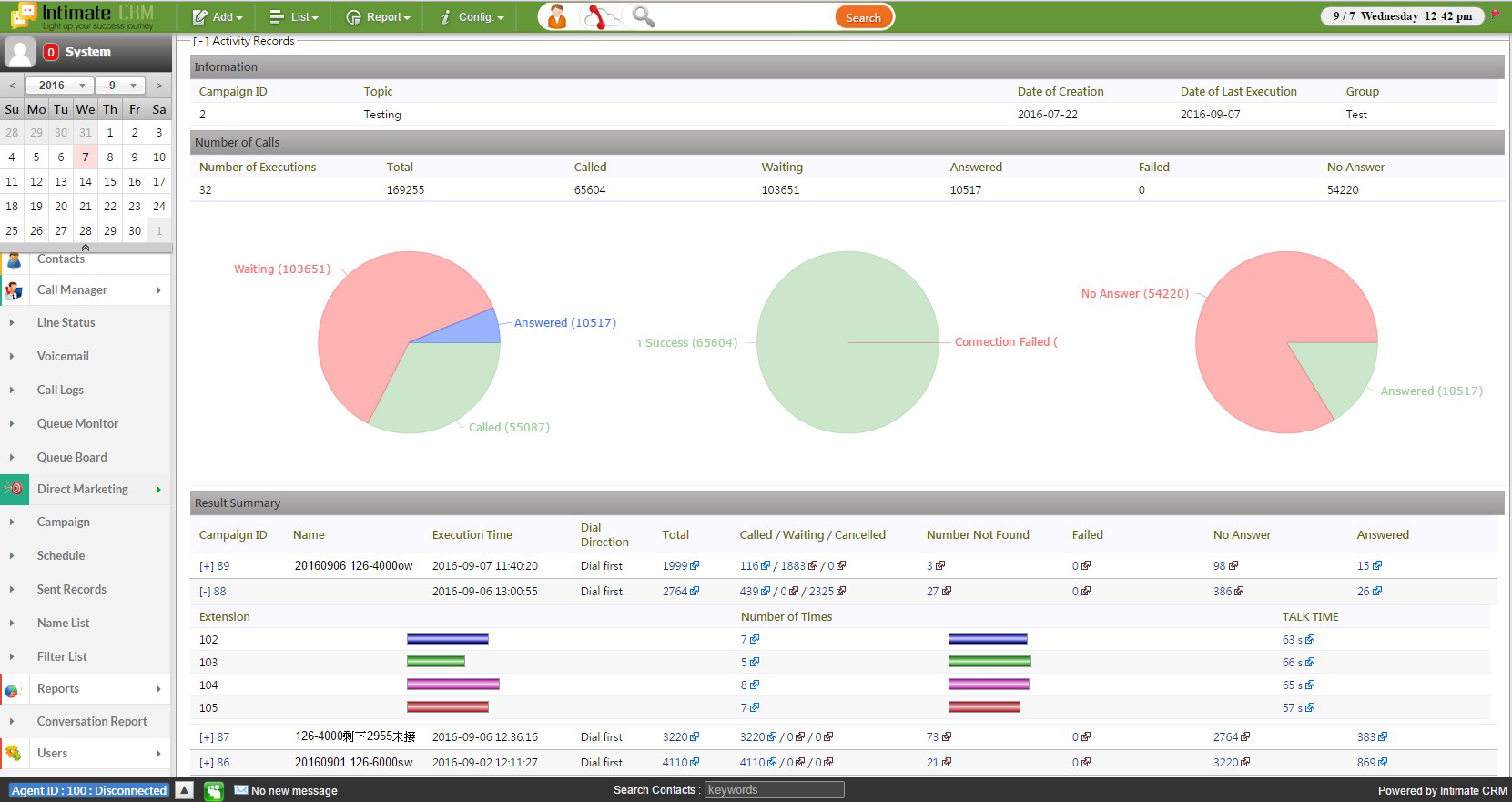 Benefits
Computerized dialing
The agents no long need to dial in person, only the answered calls will be distributed to the agents, so the agents don't have to wait for the calls being answered.
Manage potential prospects
The system allows you to save the contact of answered calls or unanswered calls, which enables you to manage your potential prospects and follow up the sales.
Market Targeting
The system allows you to import your dial lists and customize your campaign with different dial lists to achieve market targeting, you can target any groups of people to conduct cold calling. Besides, the system allows you to sort the accounts for cold calling, it can facilitate the market segmentation and market targeting.
Manage promotion campaigns
The system provides you campaign report to evaluate the campaigns, you can evaluate the performance of agents and the call efficiency, so as to pave the way for the development of future marketing plans.
Campaign Evaluation
The system enables you to evaluate the effectiveness of every campaign, which allows you to know the feasibility of marketing plan and the availability of dial lists.
Marketing efficiency
The system enhances the effectiveness and efficiency of your marketing promotion by facilitating the process of cold calling.
Click to Dial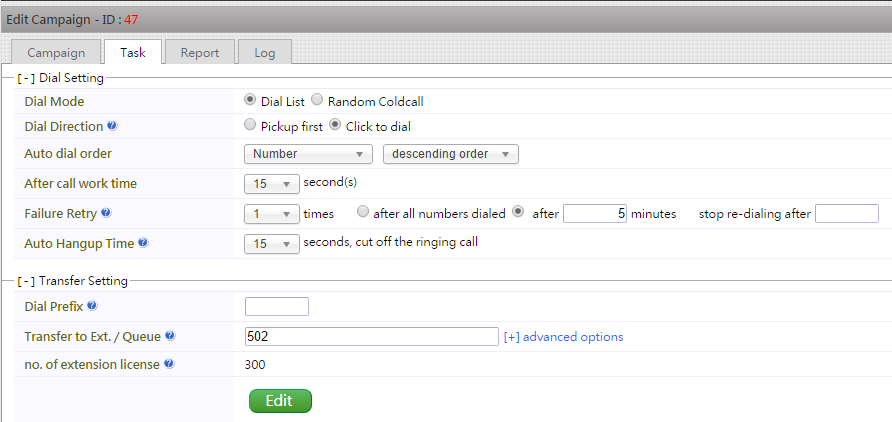 | Option | Usage |
| --- | --- |
| Auto dial order | When you switched to auto dial mode, you can let the dialer to know how to process the list. |
| After call work time | Break time for jotting down notes before the next call begin |
| Failure retry | If the call cannot be dialed, number of attempt to retry. |
| Dialing Prefix | If the list are all through IDD, you can state the IDD prefix here. |
| Transfer to Ext. / Queue | The destination to either extension or queue. |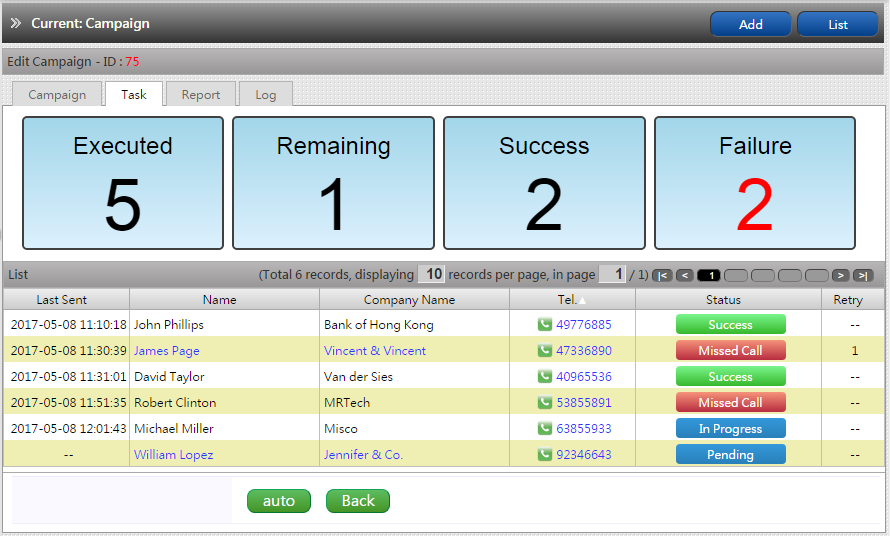 For more details :
http://www.intimatesystem.com/page.html?p=Call%20Manager