Intimate Call Manager - Automated Dialing System with Preview Dialer
Preview dialing is the simplest outbound dialing mechanism. The preview dialer selects a customer record from a call list and proposes this call record to an agent. The agent can then look at the customer record (the "preview" phase) and decide to call this customer.
With a preview dialer at the end of a call your advisors are able to see the next call on the list. It is up to them when to make the call and they may also be able to skip to the next name on the list. The can be ideal for more complex sales where a bit of research is required between calls to increase the chances of success.
Preview dialing is ideal for contact centers that deal with complex sales. Before dialing, Intimate Preview Dialer delivers essential information to agents so they can better prepare for their next call, maximizing the chances of a positive business outcome. This functionality empowers your agents while leveraging automation, ensuring powerful customer connections.
If your organization uses cold or warm calling to drive sales, you may have heard of a tool called a "click-to-call dialer." A simple software platform that allows outbound teams to move from call to call in just the click of a mouse, click-to-call dialers are becoming more popular in busy call centers and fast-growing organizations.
Empower Your Agents
Preview Dialer allows agents to review contact history and relevant information before connecting, putting them in a better position to make the sale.
Increase Efficiency
Using Preview Dialer your company can deliver outbound calls to agents in the order you choose based on best practices for each campaign. This allows agents to waste less time dialling on the keypad and spend more time talking to live prospects.
Multiple Dialing Modes
offers two modes eg. Click to dialling and auto dialling, businesses can select the best one to meet their campaign requirements.

Personalized Communication
With the right customer information handy, the agents can give a customized touch to their conversation with the customers with certain information.
Remote Login
Preview dialer supports remote login, so all the agents logging in from different places get the same information if they are outreaching the same set of customers.
Strategic Approach
The agents can review the customer information and have a strategic approach towards customer outreach.
Call Back
You can also schedule a call back for all those outbound calls that went unattended. In this way, you don't miss out on a single lead by attempting to reconnect with them.
Call Monitoring
Check if your outbound campaign is heading into the right direction and take informed decisions based on of the insights coming from the data and other analytical results.
Detailed Analytics
Preview dialer provides detailed reports about all the call related activities. Such reports help to measure the overall call center productivity.
Instant Reports and Analytics
With the help of instant reports and analytics involved, you can easily track the agent performance and total call center productivity.
You'll Save Time Typing Numbers
Click-to-call dialers work to save time on a few big levels, but the most obvious and simple is that a click-to-call dialer will save your team time typing numbers into a phone.
Because click-to-call dialers allow you to make calls directly from whatever application you're using, they streamline the outbound call process and allow your team to make more calls in less time.
Click your mouse to call any phone number you see on Intimate Systems. Make unlimited calls. It's that simple.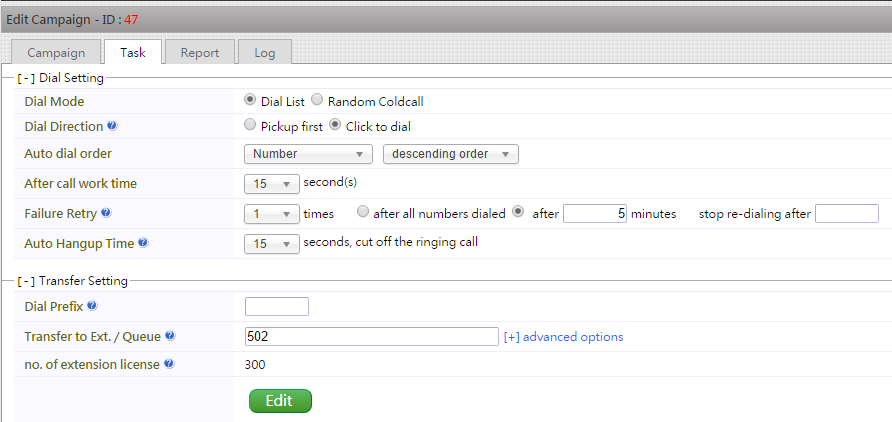 | Option | Usage |
| --- | --- |
| Auto dial order | When you switched to auto dial mode, you can let the dialer to know how to process the list. |
| After call work time | Break time for jotting down notes before the next call begin |
| Failure retry | If the call cannot be dialed, number of attempt to retry. |
| Dialing Prefix | If the list are all through IDD, you can state the IDD prefix here. |
| Transfer to Ext. / Queue | The destination to either extension or queue. |
After that, you can select the telephone number list and add to the campaign.

Finally, you can start the click to call dialer.
You can click the number to dial, you can see the real-time progress of the call. If you want to dial automatically, you can click the "Auto" button.
| Status | Meaning |
| --- | --- |
| Success | The call is answered and completed. |
| Missed Call | The call cannot be reached or dropped into voicemail. |
| In Progress | The current call. |
| Pending | The call in the list but not dialed. |